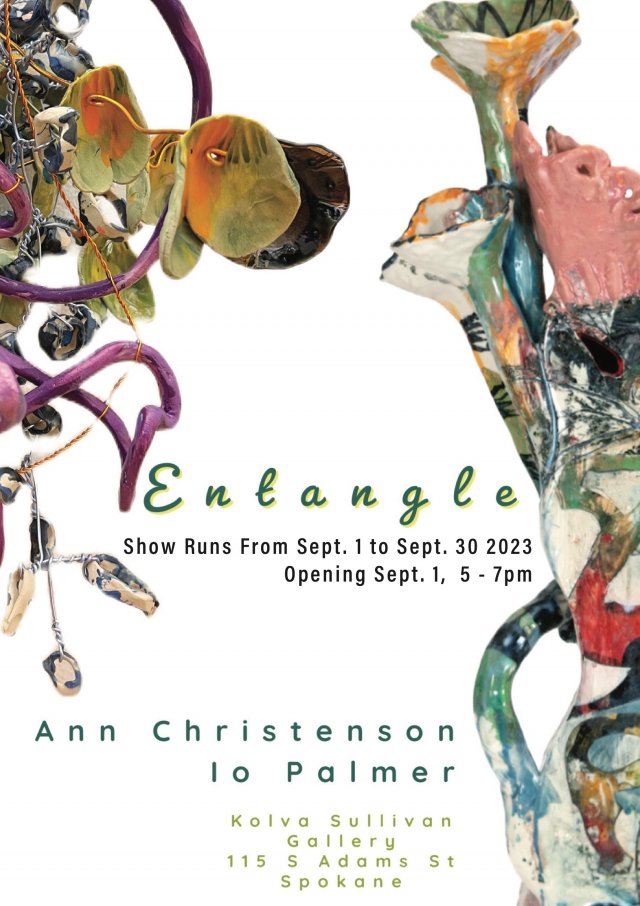 Please join us for a profusion of color, shape and imagination in the works of renowned ceramic artists Ann Christenson and Io Palmer. Based in Pullman, both Ann and Io are professors of fine art at WSU. Io is currently inspiring students while Ann, in her retirement, works full time in clay. Clay, metal, fabric, paper. All contribute to energetic works that capture the eye. Energetic, engaging. Works that soar.
FRIDAY, SEPTEMBER 1ST
5-8 PM
ENTANGLE
Ann Christenson
&
Io Palmer
---
---
Ann Christenson holds a BA (1964) and an MFA (1983) from UC Berkeley. She studied ceramics at Greenwich House Pottery, Indiana University, California College of Arts and Crafts and the University of California, Berkeley. Working in the "Cal Pot Shop" during the early sixties and watching Peter Voulkos' performance demonstrations helped shape her ideas about clay.
Christenson's work is in the following public collections: Everson Museum, Syracuse, NY; Museum of Contemporary Craft, Portland, OR; The Mayer Collection, Scripps College, Claremont, CA; Foshan Ancient Nanfeng Kiln Museum, PR China; San Bao Ceramic Art Institute, Jingdezhen, PR China; San Francisco Arts Commission, CA; Richmond Art Center, Richmond, CA; Archie Bray Foundation, Helena MT and numerous private collections
Io Palmer
, is a professor of art at WSU where she has inspired students since 2007. Her work, a mixed media wall sculpture, is featured at the recently dedicated WSU medical building in Spokane.
Born in Greece, Palmer and her family moved to the United States when she was a child and settled in western Pennsylvania. She earned a BFA at the Tyler School of Art at Temple University and completed an MFA in ceramics and mixed media at the University of Arizona. She began her WSU career at an Assistant Professor of Fine Art at WSU in 2007. She was recipient of an Artist Trust Fellowship in 2003, a Santa Fe Art Institute Residency in 2009 and 2021, and a Fulbright Nehru Professional Excellence Award, India, in 201. She has exhibited, lectured, and held residencies throughout the United states and world.